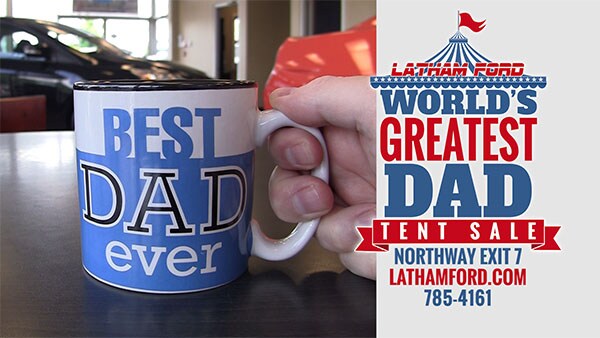 It seemed easy enough... we wanted to give away a classic Father's Day mug for our "World's Greatest Dad Tent Sale." I just had to run to the store and pick them up so we could include it in the commercial. Easy, right?
Those classic mugs were nowhere to be found. I ran all over Latham that day, from the new Wal-Mart to Target and a bunch of stores in-between. No mugs! "Plan B" was forming - ugly ties. But my heart was set on the mug.
Amazon to the rescue! They had a mug that was perfect, so I ordered a bunch and crossed my fingers that they would arrive in time. See, the local TV stations were waiting for our new commercial and it wasn't ready yet. It was missing the shot of the mug.
Later... the deadline was looming for our new commercial. It had to be ready at noon. And no mugs. Until UPS showed up with a box at 9:30. Our mugs were here! The camera was set up and I hit record. Something you might not realize, the mug footage is actually running backwards! Rather than slam the mug down on the table, I reversed the footage. All that for 2 seconds of video.
And now our commercial is on TV and all over the internet to tell you about our Tent Sale this weekend. Purchase a car, truck or SUV this weekend, get a portable grill and get a classic Father's Day mug. To think it could have been an ugly tie.