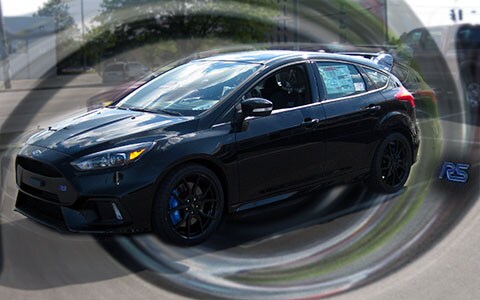 And poof! It was gone.
The rare Focus RS arrived, we took a picture, and then it was gone. Seriously.
This special car is imported and only a few will make it to our shores this year. It has the looks. It has the speed. It has 4 wheel drive. And it's kicking the butts of many a hot-hatch overseas. Videos have been made, drivers have fallen in love and other cars are left huffing and puffing, wondering how this little car from Ford dusted them.
The Focus RS is a wanted car. And when they arrive - they are gone. You can't get one. We can't get any more. Each one that arrives in the States has been spoken for.
That's what happened. The Focus RS arrived, in it's own gravity field, speed pent up, waiting to be let loose by it's owner. We blinked - it was gone.
There are few cars that cause this much stir. And most of those cost more than a house. Or two. Or three. The Focus RS is a rocket on wheels, and affordable.
You just can't have one. Yet.
We suggest you get friendly with the folks here at Latham Ford. Let them know you want one. Get your name written on a Post-It stuck to the boss' desk, so when that rare opportunity to own pocket fury pops up again, you get the call.
We didn't even get to "test drive" it. Sigh.