Take Advantage of This Month's Current Offers
Ford Blue Advantage: Confidence at Every Turn
Experience the benefits of Ford Blue Advantage! Each Ford Blue Advantage vehicle features a limited warranty, multi-point inspection, 24/7 roadside assistance, and FordPass™ Rewards Points.
We're Here For You
Ford of Latham always puts customers first!
Don't take our word for it: Read our reviews and see what everyone is saying.
Update 3/9/2023 I am adjusting this Review as an update for services performed after some things fell through the cracks during the sales. A few weeks ago The General Service manager reached out to me via phone to discuss the problems I had during my initial sales and follow up. Thomas was a truly awesome manager and customer service oriented person. He understood my concerns and how I felt and promised to resolve the issue within an agreed upon time. he set up the appointment made sure everyone on the team was aware of the work that was going to be done and even provided me with a loaner car for the day. When I reached the service center the staff was extremely nice, friendly , customer driven to assist and take care of you. I left the car and headed home. Several hours later i recieved a call that my car was finished and I could come pick it up. When I arrived the car was clean shiney and smelled incredible from the permaplate. The service department is outstanding in their handling of customers, their knowledge and friendliness certainly will instill the kind of trust and loyalty that so often goes unmentioned or corrected after an issue. I want to thank Thomas and the staff at the Service Department for taking the time to put my mind at ease and resolving this issue. You've earned my trust as well as my appreciation and loyalty. Thank you Michael.
Had a great buying experience with Anthony Lokie. Highly recommend this dealership, courtesy, professional and worked hard to meet the terms we needed.
I had an amazing experience with my recent purchase! Markos was super knowledgable and professional. The level of his customer service was beyond most than I have experienced. He ensured the process went smoothly while answering all my questions. I could not be happier with his level expertise and I am loving my new Bronco!
Kwame J, and Shaun M, made it that I was able to finance a 2016 Chevy Malibu and and 2014 for fusion. No issues what so ever. The payment processing was smooth. Overall, the two best salesman!! If I ever need to get another car… I'm goin here. Thank you Shaun and Kwame!! Super appreciative!!!
Joe Tomaselli was extremely helpful in helping me find just what I wanted. He was very knowledgeable and professional. I would definitely recommend anyone see Joe when buying from Ford of Latham!!!
Great experience and the sales associate was extremely professional. Markos went above and beyond to make this experience a great one.
The entire process was friendly and professional. The sales person meet me at the door,introduced himself and in a low key manner commenced to identify my needs for buying a car. I appreciated the lack of high pressure to close a deal. When I met with the manager, he was an excellent example of someone who got right to the point and we closed a mutually agreeable deal in less than one half hour. The business manager was through in his presentation of product and financial options. He was also very knowledgeable about the functions of the car I was buying. I would highly recommend this new management team to my friends.
I have worked with Steve Foster to buy and maintain all my vehicles. He is always very helpful and courteous when ever I come in
Steve Foster did an outstanding job getting us our 2020 Ford Escape. We will continue to purchase our Fords with Latham. Great salesman and team.
I want to thank Steve Foster for all he has done for myself and family. Over the past 4 months Steve helped 4 of my family members into new Ford vehicles. I personally have purchased many vehicles from Steve over the past 30 years and plan on doing so again in the future. Steve by far is the best salesperson I have ever dealt with both for sales and helping me with service throughout those years. Thanks Steve for letting me feel like a valued customer and friend throughout. Walter
I purchased a 2020 explorer from Steve Foster and I must say I couldn't be happier with my experience. If you want 5 star customer service and a down to earth person Steve is your guy! No hassle no fuss, couldn't ask for a better car buying experience!! Oh and he even let my kids get in on the action with helping with the color!!!
steve foster was a great salesperson he was knowledgeable and went out of his way to provide great service and a fantastic car buying experience
STEVE FOSTER IS AMAZING!!I went in to the dealership to get a new lease with Ford after previously being with a different dealership. Steve treated me with respect and tried to get me the best deal possible. He worked for a few hours to get me a price that worked best for me and my budget. Steve is a hard worker with a big heart who will stop at nothing to try to get you or your loved one into the car they want. I highly recommend Steve and Latham Ford to anyone in the market for a new car!
Leased my 9th Ford with Steve Foster from Ford of Latham- he treats you like family - just got an Edge - we love it - Thanks Steve
Worked with Henry on buying my new F250. He was very straight forward with what they could do and didn't xxxxxxxx me on anything. I told him what I wanted and how much I could spend and they all went above and beyond in getting it done and me out the door in no time at all. Definitely recommend this place and Henry Rauche and Johnny Clay.
I purchased a car with the guidance of Steve Foster. After speaking about my desires in a vehicle, he found the most perfect match for me. Johnny Clay, from the finance department, really went out of his way to hit my monthly payment goal on the car that I wanted!! I couldn't be happier with both Steve and Johnny throughout this entire process.
Never have I experienced a better buyers environment. No pressure, listened, and gave me everything i wanted and needed. Very personable and cared. Thank you!
Henry, our salesperson at Latham Ford was very helpful in finding a great car for our daughter who is heading off to a new job. The process of buying a new car is usually time consuming but this went fast and efficiently. Our daughter loves her new Ford Escape.
If you're looking for a salesperson who cares about the customer then Henry is your guy!! I have purchased many vehicles from Henry and every purchase has been like the first! Henry is honest and a man of his word! Most salesman work for themselves however Henry works for his customers!! He's the man👍
I have worked with the same sales person so far fallowing him from denooyer, to depaula and now to latham ford. I usually need about 5-10 vehicles for my family and business every year and will go anywhere he is as he makes the whole process simple and easy. Thanks again Henry
Purchased my 2020 Ford Escape and can't Thank Steve Foster enough, the knowledge of the safety features and the great price and not to mention the professional yet friendly manners, Steve is great sales person and I would highly recommend and refer my friends and family to Steve at Ford of Latham.
I went yesterday to Ford Latham and spoke with Johnny Clay, one of the top dog there: most honest and helpful experience in a car dealership I've ever had. He didn't want to convince me of anything, he just listened to what I had in mind: see, I owned a Chevy Silverado for the past 10 years and I wanted to "explore" the competitors. He never said a word to convince me that Ford was better than Chevrolet. He just patiently pointed to reliability, fuel efficiency, customer service, towing and hauling. Well, I ended up buying a 2021 f150 and I've never been happier. If you are in the area, try to go there, it's worth the visit. And try to speak to Johnny. Seriously, you'll remember my words
Best car dealership experience I've ever had hands down!! Everyone was very helpful and attentive, and I couldn't be happier with my new F-150 truck. Thanks Latham Ford!!
Jonny was incredible at doing everything he could to get us the vehicle we wanted and at a very reasonable price ... better than others. Henry was great at listening to what we were looking for in our purchase within our finances. Highly recommend Latham Ford. We will be back for our second lease .
The Service Manager was a pleasure to work with, made me feel like I came to the right place. New management is making positive changes.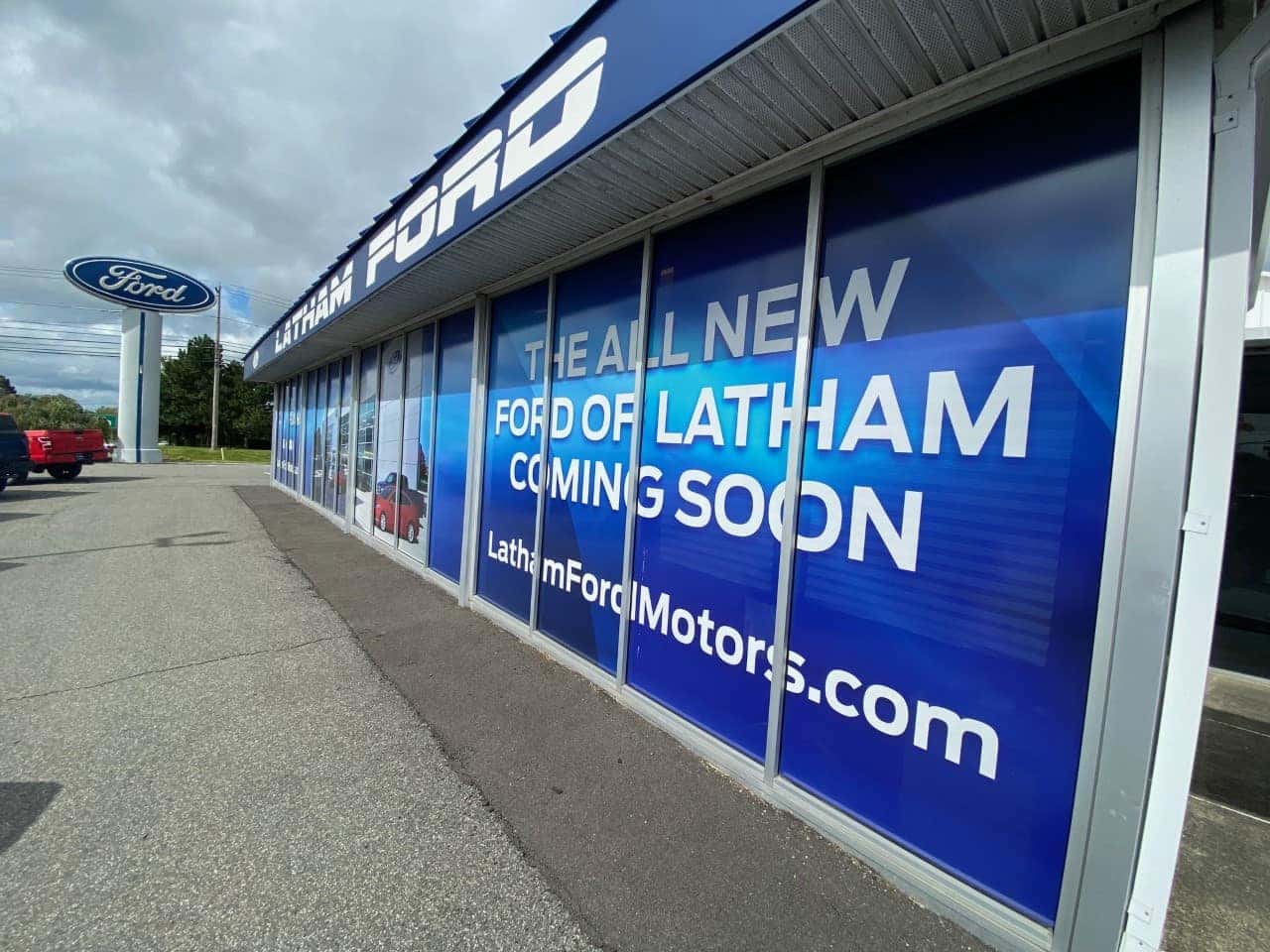 Get Directions To Our Dealership
Welcome to Ford of Latham
New & Used Cars Latham Ford Drivers Love
Ford has consistently delivered on providing high-quality vehicles for drivers all over the world, including in New York. Ford of Latham has a huge selection of new Ford vehicles in stock from the Ford F-150 to the Ford Escape. We also have a very knowledgeable and professional sales team that will be able to guide you through all the trim levels, so you get exactly what you need out of your next vehicle. If you're on a budget, we also have a plethora of used cars from various makes on our lot. We are a Ford dealer near Albany that makes it possible for you to compare top makes and models without ever having to leave our lot!
Secure Your Albany Ford Loan at Ford of Latham
Do you find the auto financing process kind of scary and intimidating? Have no fear because the finance center at Ford of Latham is here to provide you with the assistance and answers you need to take the discomfort and stress out of the whole experience. The finance team works with a vast array of lenders, so our Ford dealer near Schenectady can often provide you with better interest rates and terms than your local bank or credit union. Plus, we also work with Latham Ford drivers of various financial backgrounds, so we can help you explore all of your options. Apply online to save some time at the dealership. Filling it out early will give our experienced finance professionals the chance to start working on your Albany Ford car loan or lease right away.
Certified Auto Service at a Ford Dealer Near Albany
Taking care of your car routine maintenance is important to keep it performing at the high levels you've come to love. Our Ford service center can assist you with any maintenance or repair you need to be done to your vehicle. Whether it's a tire rotation or a complex transmission repair, our service team is on the job. We have many factory-trained, certified service technicians on our staff, which makes our Ford dealer near Clifton Park stand out in the area. We also have an online scheduling tool that many Latham Ford drivers love since they can make their service appointments whenever they are free!
Ford of Latham: Your Ultimate Ford Dealer Near Schenectady
Ford of Latham is all about taking care of our customers and local Albany Ford drivers. Whether you are shopping for a new vehicle, servicing your current one, or buying auto parts, our Ford dealer near Albany aims to offer you an exceptional customer experience whenever you walk through our doors. We believe that what sets a car dealer apart is how they treat their customers. Everyone who works at our Ford dealer near Clifton Park wants the people who choose to give us their business to feel like they are part of our automotive family. When you visit Ford of Latham, located at 637 Columbia Street, Route 9R in Latham, NY, we pledge to make you our top priority!
Contact Us